The maximum hardness of USF-Excel and concomitant wear resistance is attained at lower than expected temperatures and/or shorter heat treatment times. Coating hardness of USF-Excel along with other deposits is presented for comparison below.
If the USF-Excel as-plated hardness is not enough, heat treatment can increase it further. However, caution should be exercised when heat-treating USF-Excel.
Performance Under Stress
An additional benefit of the USF-Excel deposit is intrinsic deposit stress. Unlike most low to medium phosphorus deposits, USF-Excel exhibits compressive stress.
This is important for a number of reasons. Past studies have found that many deposits exhibiting high-tensile stress performed poorly in wear tests when compared to slightly softer, compressive stressed deposits.
This clearly supports the claim that deposit hardness is not the sole-determining factor in wear performance of a coating.
Improved Wear Resistance
The following graph illustrates the increased wear resistance of USF-Excel when compared to conventional electroless nickel.
Improving upon heat-treated electroless nickel
Often, heat-treating is not possible due to size constraints or other factors. Some substrates can't be subjected to these high temperatures due to the impact on critical tolerances and/or effect on surface hardness of the components.
In addition, the process is time consuming and increases the project cost.
The challenges of heat-treated electroless nickel can include deposit shrinkage and cracking that often results in a dramatic reduction in corrosion protection. In addition to this, magnetic properties, stress and solderability are also adversely affected. If not heat-treated in a vacuum or inert atmosphere, the deposit appearance becomes objectionable due to various colored oxides.
USF Excel avoids the challenges while offering engineers an alternative to hard chrome.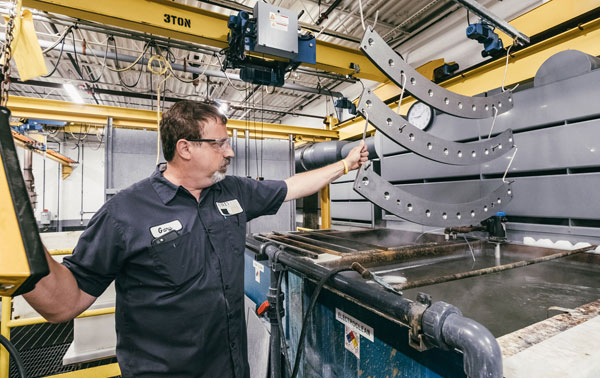 What about low-phosphorus electroless nickel?
In the early 1990s suppliers introduced low phosphorus electroless nickel that showed much promise. High phosphorous as-plated hardness and excellent corrosion resistance in alkaline environments were promoted, and many considered it an excellent choice as an alternative to hard chrome.
But low phosphorus chemistry never took off as a replacement to hard chrome for several reasons. The chemistry required to produce a low phosphorus deposit is more expensive than conventional EN. Also, the process is somewhat more difficult to operate.
Loading, agitation, hypophosphite concentration and pH must be monitored closely to attain optimum performance and maintain the low phosphorus content.